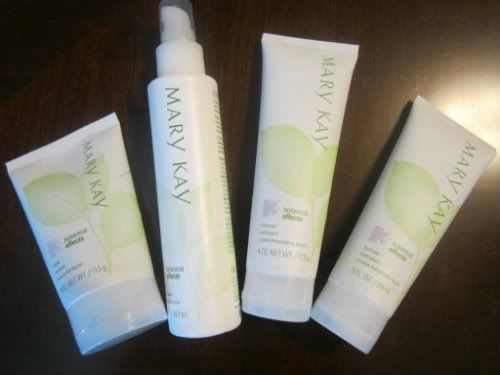 If you have subscribed to me on youtube you should know that I have talked about changing my skincare routine. About a month ago I've finally changed it when my Mary Kay consultant showed me the Mary Kay Botanical Effects Skincare line. After trying it I simply love it for my skin. I bought the whole set for 56 dollars but you can buy each piece individually for between 14-16 dollars.
Facts
There are three formulas: 1.Dry 2.Normal 3. Oily. ( I am using the oily formula )

The products are made of natural ingredients only which also means its good for the environment. Formula 3 has Kanuka extract & Guava extract.

Speaking of environment, every container can be recycled.

Great for sensitive skin

Its the cheapest skincare line that Mary Kay have.
Here is what I love about it
It helps me balance my oily skin better than my clean & clear products.

I don't have any allergic reactions to it.

It decreased the amount of acne I have on my face.

It makes my face feel soft, smooth, and refreshed.

The mask gets rid of all the extra dirt and oil from my skin.
What I don't like
The only thing that I don't like is that the cleanser doesn't lather up really good unless you are using a manual facial brush or a electronic one like the Clarasonic.
My Overall Opinion: I LOVE IT! I gave my sister all my Clean & Clear products simply because I don't want to use nothing else. The only way I'm going to change my skincare products is if I find something better. I think people should give it a try if there looking for something new.